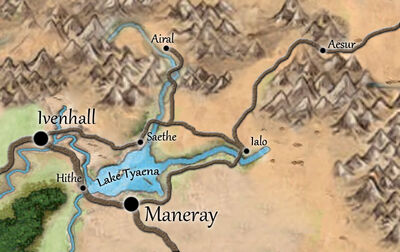 The Lake Tyaena Region includes the two major cities of Ivenhall and Maneray as well as several smaller towns.
The region is defined by its most promiant feature, Lake Tyaena itself which is the largest lake in East Oria.
Lake Tyaena
Edit
Lake Tyaena is formed from the confluence of the two major rivers which flow down from the Stoneback Mountains: The Ari and the Alo.
The lake in turn feeds two rivers of it's own: The Rion and the Yasur each of which lead to the sea.
Cites and Towns
Edit
The Lake Tyaena region includes the following towns:
Ivenhall
Hithe
Saethe
Aesur
Ialo