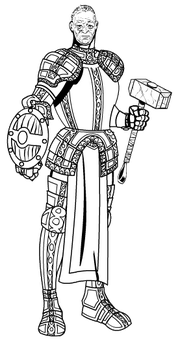 Lord Brazen Carradine is the Commander General of the Armies of Erivale and Military Governor of
Blyth
.
Carradine came up through the ranks of the Demorian Army quickly after graduating from the Roland Academy, where he met and became good friends with then Prince Tagoric Basitor IV. Carradine was the third youngest person ever to achieve the rank of Lieutenant General. After Basitor ascended to the throne, he promoted Carradine to General of the Delmorian Army, a position he held until he was took the newly created position of Commander General of the Armies of Erivale in 4703. 
Delmorian Intelligence Service
Edit
The Delmorian Intelligence Service (DIS) was an agency created by Lord Carradine during his tenure as General of the Delmorian Army. The task of this agency is to gather military intelligence and investigate crimes committed against the throne. 
Ad blocker interference detected!
Wikia is a free-to-use site that makes money from advertising. We have a modified experience for viewers using ad blockers

Wikia is not accessible if you've made further modifications. Remove the custom ad blocker rule(s) and the page will load as expected.